Catskill Rodmakers Gathering 2000
Presentation of the "Digger" DeGere Rod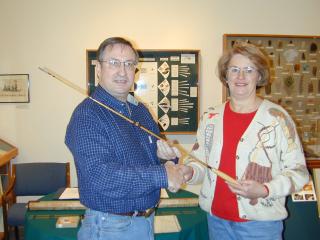 Presentation of the Digger Rod
The Catskill Rodmakers Gathering 2000 Rod made in memory of Francis "Digger" DeGere was presented by Chris Bogart, the 2000 gathering organizer, on behalf of the Rodmakers to Miriam Stone, president of of the executive committee, and the Catskill Fly Fishing Center and Museum on Saturday December 16th, 2000. Included with the rod was a complete set of documentation, photo albums, and the article concerning Digger and the making of the rod.
The "Digger" Pretty Darn Good Rod Display
This rod was presented in recognition of the support to the Eastern Rodmakers that the Center has given over the years. It is also a way for the rodmakers to give something back. This rod will be raffled by the Center over the next year as a fund raising item. The raffle ticket will feature the drawing of Digger done by Kim Mellema. The rod will be put on display in the Center for visitors to view and buy tickets and for next years rodmakers gathering prior to the raffle drawing. In addition, it will also be taken to the winter fly fishing shows and put on display at the Center booth.
The following individuals made specific contributions to the Digger Rod:
Harold and Eileen Demarest - The "Perfect" bamboo culm
Fred Moran - The Selection of the taper from Diggers note books
Alan Medved - The rattan wrapped grip and winding check
Gary Dabrowski - The Reel Seat and wood insert
Dave LeClair - The bronzed snake guides and tip top
Al Bellinger - The agate stripping guide
Howard Bartholomew - The stainless steel ferrules
Tom Whittle - The wood hexagonal rod case
Alan Gnann and REC - The rod bag
Olaf Borge and Phoenix Lines - The DT4 silk line
Bill Ballan - The heritage classic fly reel
Tom Smithwick - The wrapping of the rod and hand brushed varnish finish
Kim Mellema - The beautiful artwork and drawing of Digger
The "Digger Pretty Darn Good Rod Photos